Firewood Prices
Our Bulk Bags - £99 each bulk bag
Approximately 150-175 kiln dried seasoned hardwood logs (no longer than 10" in length) in an 80cm x 80cm x 80cm bulk bag.
We select only the very best logs to sell, often turning away inferior wood that is offered to us.
All our kiln dried seasoned hardwood logs are suitable for open fires and woodburners.
Our Nets of Logs
Each net has a minimum weight of 10 kgs.
Minimum order is 10 nets at £7.50 per net.
Please don't compare our nets to those sold in petrol stations. Our logs have a low moisture content, ignite easily and burn with high heat output.
We sell only the best quality kiln dried hardwood logs (ash, beech and oak) with an average moisture content of 10-20%.

Our firewood logs are suitable for open fires and log burners, and our logs are grown in a sustainable way.

Our delivery service is friendly and reliable.

Kindling available at £5.00 a sack.
Why choose silvanalog2door for your kiln dried logs instead of ordinary logs?
Kiln dried is cleaner, insect-free firewood. Insects and mould spores do not survive the kiln-process. Powder-post beetles, ants, termites and Asian-horned beetles are all destroyed so:
Cleaner wood, less bark and debris is brought into your home.

Can be stored in your garage or basement instead of outside.

Less creosote means fewer chimney problems and maintenance.

Weighs less, much lighter than green or short-term seasoned wood as it is not laden with moisture.

Ignites easily and burns efficiently.

Price is comparable to seasoned firewood.

The bright flame and aromatic wood fire smell also make kiln-dried logs much more aesthetically pleasing and create real fire ambience.
We accept cash, cheques & BACS payment (in advance of delivery).
Our Smokeless Fuel
Smokeless Fuel (UK) Approved (Hetas / DEFRA) - smokeless coal, briquettes for use in smokeless areas, for open fires and certain closed appliances.
(If in doubt check with manufacturer)
Premium House Coal (Scotland) small pieces of coal for an economical fire, providing a long flame and a consistently high heat source with little ash.
(where use is permitted).
Hotties Eco-logs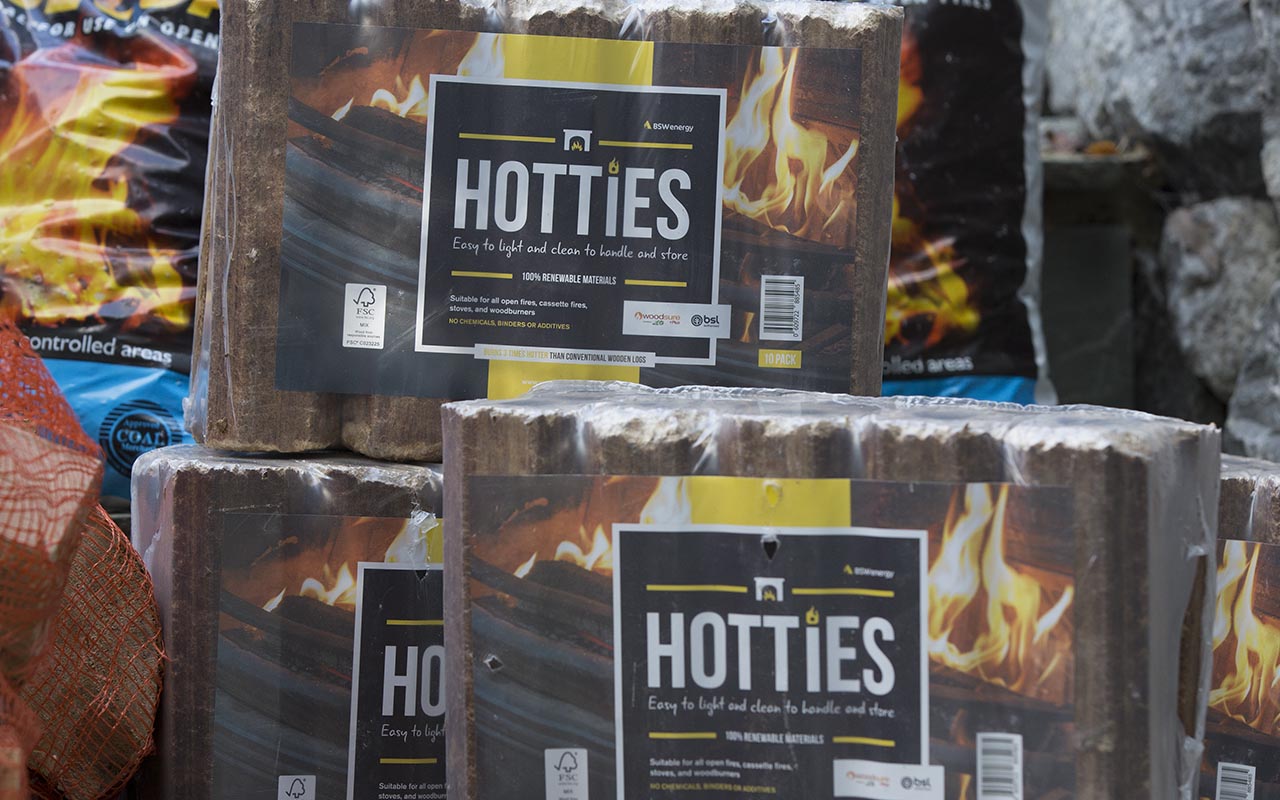 Hotties Eco-logs
We deliver a high quality brand of eco-logs – Hotties. They are made in the UK by manufacturer Bridgebrooke Energy and they are made from 100% recycled clean wood. They are denser and drier than seasoned logs and other heatlogs and do not expand or crumble, giving off a powerful and reliable heat every time; the average burn time for a single Hotties Heatlog can vary from 60 minutes to 90 minutes (the type of appliance you use will determine the burn time). Manufactured in Suffolk from UK recycled clean wood residues, off-cuts and sawdust, the logs are HETAS/Woodsure Plus accredited for quality assurance every time. You may be able to find other types of fuel logs/briquettes slightly cheaper but we only supply Hotties as we believe they offer the best quality.
Highly compressed briquettes, they are made in Suffolk, UK, from 100% recycled UK wood,with no additives.
Trial pack (10 heatlogs) for £7.50 when you make a purchase kiln dried logs, smokeless coal or house coal.
From then on minimum purchase 10 packs @ £7.50/pack - £75.00.
We accept cash and payment by bank transfer (in advance of delivery).
TERMS AND CONDITIONS
silvanalogs2door will not accept any liability for any injury, damage or loss arising from the use of good purchased.
All goods must be checked on delivery.
All products delivered shall be at the customer's risk from the time of delivery, after such time Silvanalog2door shall be under no liability for loss or damage or deterioration of the products from whatever cause arising.
Customers should check with the manufacturer of their appliance as to the suitability or otherwise of the proposed product and ensure its use only for that specific intention following all guide lines regarding the safe operation and maintenance of their appliance.
Any personal information we collect from our website will be used in accordance with the Data Protection Act 1998 and other applicable laws but we will not pass your information on to any third party and any information you give us about yourself will remain confidential.